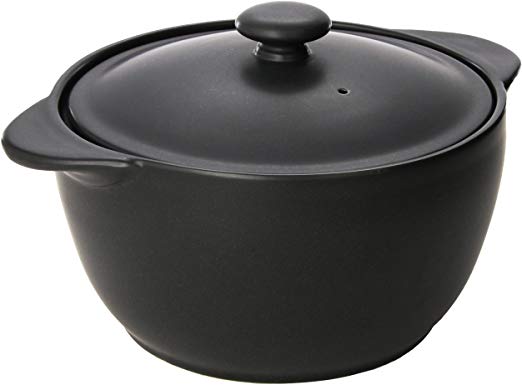 While we're on the subject, we should mention that it's not just what sits on the table, or holds the wine bottles, that is important in the kitchen. Beauty and form are important even if they won't be as visible to guests. But not everything can achieve high marks, and sometimes a single company can actually fall on both sides of the line, offering product lines that feel as contradictory as complementary. That's the case with the firm Noritake and their bakeware lines, which we liked, and the glassware, which was less convincing.
The good, first. The Noritake Colorwave Graphite Covered Casserole (2 QT) and Colorwave Graphite Square Baker (11 1/4") were both excellent- heavy, but that's not a bad thing when it comes to bakeware. Often, heftier stoneware lead to more even cooking, and we found that to be the case with this pair. They look great too- simple, sleek, with a nice matte glaze and available in three other colors beyond the classic graphite (raspberry, chocolate, and green). The packaging wasn't great, but this cookware is oven, dishwasher, and microwave safe. We tried cooking and baking a few things- cornbread, a bean and sausage casserole- and found them pretty easy to clean and handle. They offer quite a few pieces in the line, and even dinnerware that can match, allowing you to coordinate between sets.
Their website is a little old school, but does allow you to see the various items that they make, including ramekins, square plates, and several types of cups. We definitely recommend browsing through their wares, and one thing to note is that they are pretty good about selling individual pieces of a pattern, and you can register for the pattern you have or want. Quality seemed quite high, and though there aren't many features here to boast about, it's excellent bakeware that looks nice and works well. The Casserole runs about $80, and the Baker $55, both available fairly widely.
We also have been sipping from the Noritake Eternal Wave Wine Glasses. The same pattern is available in iced tea, goblet, and champagne flutes as well, and we liked that all of the crystal was dishwasher safe (though they do recommend hand washing). Most folks here weren't so fond of the pattern or style though- the glasses felt oddly balanced, a little fragile, and the swooping design felt a little tacky. Also, the shape of the glass is a bit unusual, and our wine lovers weren't impressed by the design. It's a shame, though- we liked the simplicity of the bakeware, but the wine glasses felt like an extreme opposite approach, a sort of form-over-function that didn't help. Available for around $30.