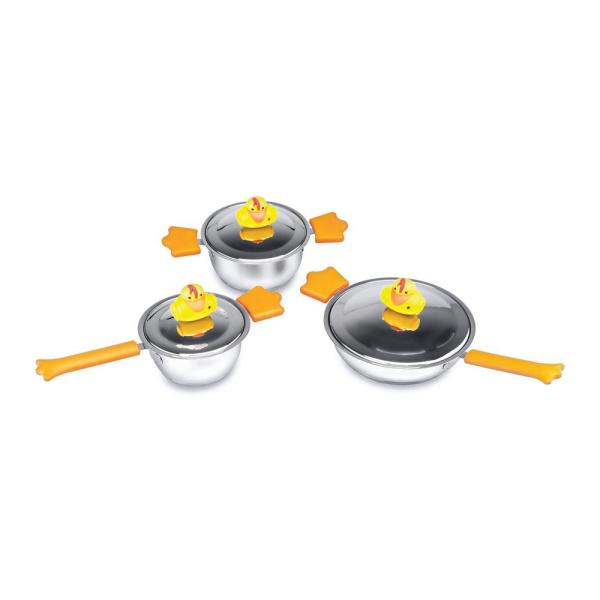 We've seen some un­doubt­ed­ly strange things come across our desks- gad­gets of ev­ery shape and size and style, and plen­ty of odd books, movies, and more bad CDs than we can pos­si­ble list. There have been so­das that taste like turkey, and kitchen scales with at­tached iPod docks. But one of the weird­er things that we've seen re­cent­ly isn't ac­tu­al­ly all that bizarre when you're us­ing it. It's most­ly a ques­tion: "who thought of this con­cept".
We're re­fer­ring to the BergHOFF Sher­iff Duck chil­dren's line of pots and cook­ware. The pots are re­al and de­cent- stain­less steel, with han­dles that pro­tect you from the heat. But de­sign is ev­ery­thing, and these han­dles are shaped like duck… feet? They're or­ange, and cute, and atop each pan is what looks like a rub­ber duck­ie. These have lit­tle stars on them, in­di­cat­ing a sher­iff's badge, and… well, we feel like we're miss­ing part of the joke.
Gag gift? Not so fast. Ap­par­ent­ly, par­ents like them to en­cour­age the young ones in the kitchen- now you, too, can put child la­bor to use over the stove. We're skep­ti­cal of the safe­ty of this, but heard from some par­ents that Mom and Dad could use them to pre­pare food and then show ju­nior the pots and pans to make it look more fun. Maybe we're get­ting old, but still: ducks? Sher­iffs? On our pots and pans? We tried out the cov­ered casse­role- yep, re­al­ly- but they have a 6-piece and even 12-piece line. The apron and the chef's hat we can cer­tain­ly get be­hind. But even though these pans were OK- fair­ly lightweight, dish­wash­er safe- we felt sil­ly even with a cou­ple of chil­dren around.
Avail­able now, on­line and in stores, for $80 for the six piece set (in­clud­ing the lids).