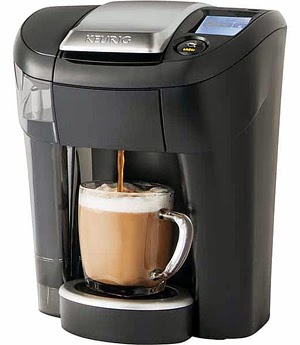 We've been fan of K-cups for a very long time, and so it was with a measure of both excitement and sadness that we attended the launch event for Keurig's new system. A complete overhaul of their single-cup brewing line, the new models are incompatible with the K-cups we know and love, and the new cups are oddly short and stout. We had been hearing rumors for a while, and certainly recognize the needs: the new system addresses some of our biggest complaints, by allowing you to recycle one part of the cup and compost the other, it removes or greatly reduces the waste impact. And the new sizes and machine offer additional options, with room for more coffee grounds in each of the 'packs' to make stronger brews, and more control over temperature and even pressure.
Changes can be scary though, and our first experiences with the new Keurig Vue system weren't completely reassuring. Part of this may be our biases- we've grown quite fond of the coffee varieties available in the K-cup format, many of which are not yet available in Vue packs. Cost is a factor as well- our favorite K-cup boxes are less expensive by a significant margin than Vue packs, and the machines themselves differ greatly in price (the only currently available Vue brewer runs $225, versus the inexpensive Mr. Coffee personal model we reviewed, with limited options but quite decent results at around $70). There is currently no reusable filter for the Vue system, either.
Clearly, Keurig set out to make a top-of-the-line brewer. It offers eight different brew sizes, has a decently-sized color touchscreen that works pretty well, and the water reservoir is plenty large at 74 ounces. It looks sleek, black and metal accents, and is pretty simple to use for those who are familiar with similar coffee makers. Brew times are longer than previous machines and seemed quite a bit noisier- apparently, it wets the grounds before brewing, which can create better results but does add some time to the process. We also noticed that many of our travel mugs would not fit where they need to go- which is a pretty big problem for those who want to grab and head out the door. Regular coffee mugs work just fine, of course.
We also have mixed feelings about the new Vue packs. It's great to be able to avoid trashing them. But you have to peel away a layer to separate the components, and it's fiddly even when the package is cool. Right after brewing, when you're likely to actually want to dispose of them, they're hot and this makes it more difficult. In addition, despite the new Travel Mug sized packs, it was still  not possible to get a strong brew for an 18 ounce or larger cup of coffee. These larger packs do include more grounds, but not enough to create good results for cup sizes beyond, say, 12 ounces.
We also checked out the Vue Pack Carousel, a handy accessory for anyone who gets the machines (or gifts one)- it serves as a handy, attractive place to store and display the cups. Under-unit models are likely to come, but we haven't seen any yet. Available now for around $30. Coffee varieties, as mentioned, are still limited, but a 10-pack sample is included in the unit's box to get you started. We're fond of the Green Mountain Breakfast Blend and the Barista Prima Italian Roast, available separately for around $11 for a 12-pack.
In our office, the Keurig K-cup Platinum Brewer continues to sit alongside the Vue, and most folks seem to prefer the older sibling. The results are consistently good, and the coffee selection is wider, plus we can always throw in the filter basket and use our own grounds. There are some great changes and upgrades in the Vue, and we definitely appreciate the commitment to environmental friendliness and additional customization in brewing options. We'll definitely give the Vue some time to find the way into our hearts, and in the meantime, there's a new and interesting single-cup brewing system on the market that is certainly worth a careful look! In stores now.