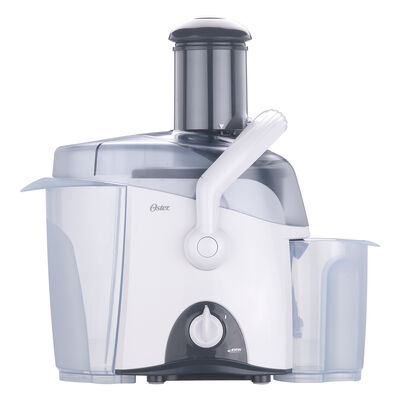 Of all the equipment that can take up space in your kitchen, a few items are essential. Coffee and tea appliances, a microwave and toaster, a good blender. And, depending where you are, a solid juicer is almost as necessary. Sure, you can throw fruit and vegetables in a blender and get OK results- as long as you don't mind a lot of skin, or the extra pieces on your citrus fruit. Anyone who likes smoothies eventually should try a juicer, as fresh fruit can be tastier and cheaper (in volume) than frozen or pre-made juices.
We took the Oster Wide Mouth Juice Extractor (model 3167) for some test spins. This model is their second-best, after the PRO version, and features 450 watts of power. The juice container can hold up to 34 ounces, enough for a several cups of juice, and the pulp collector canister is also fairly large. Though they claim the chute is "wide mouth", you'll still want to cut up many items- apples, pears, larger citrus. It wasn't a hassle to do, and though we were a bit skeptical at first of the plastic plunger and odd locking handle, the Oster performed nicely. It wasn't too loud, and the pieces are dishwasher safe.
There are quite a few different parts, though, and they are pretty awkward to store. There is only one speed available, and it leaves the output fairly pulpy- though you can always feed it back through for another cycle. The unit looks pretty nice, and construction is solid, but it was easy to make a bit of a mess and clean-up does take a while. The stainless steel juicing screen itself, for one, is hard to get clean- we recommend immediate attention, and maybe a toothbrush.
Super-simple to use, this isn't a high-volume juicer. And if you're likely to be doing primarily citrus, there are other units that are better for that specific function. But for general-purpose occasional juicing, the Oster 3167 is a good buy at only $70 or so. Just don't try to juice avocados or bananas!