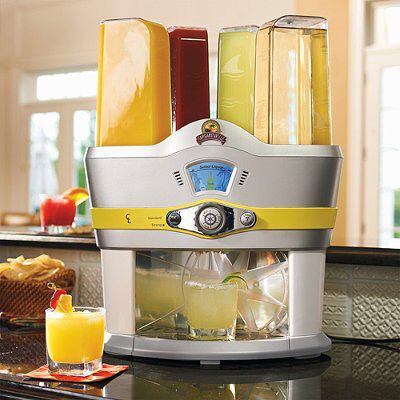 Do you feel lucky? We do, and not just because the temperature hit 80 degrees in New York City. The winter was warm, but that might mean a hot summer, so we're preparing early: planning for trips to the beach, swimming getaways, and gearing up for a beverage-filled season. If you're like us, plenty of those drinks will have a little something extra in them- because what's sort of drink is better suited to the practically-tropical climate than a fruity, chilled, alcoholic cocktail?
We checked out a portable icemaker recently, and it pairs very well with today's item. The Margaritaville Mixed Drink Maker is overkill, in the best sense of the word, a kitchen gadget that will impress guests at parties and serve as a fun centerpiece for conversation. It's pretty large, but doesn't apologize- instead, it looks almost commercial, a solidly built and attractive unit that can hold four different drinks and combine them at will into a variety of mixed drinks. Fill one of the color-coded tanks with the spirit of your choice- rum, vodka, or tequila- and the others with cranberry juice, orange juice, and sour mix. The machine will do the rest, assembling up to 15 different drinks per alcohol type. You can choose which recipe you want- from a Screwdriver to a Cape Cod to lesser-known drinks like a Tropical Rita, Madras, and Sunset or Hurricane Punches.
The tanks can be chilled beforehand, though fitting all four in our fridge was a tight fit. Also, unlike the Margaritaville Frozen Concoction Maker we checked out long ago, this one doesn't handle ice, so you'll need to make sure that you have some handy. Their recipes use an eight ounce pour, and assume that you'll be using a sixteen ounce glass about half full with ice. It takes a bit of prep to get the machine setup of course, but the menu system is easy, and you can simply select the spirit you're using and it mostly handles the rest. There's even an "I Feel Lucky" button that will choose a random option, which is a nice way to sample some varieties- and you can decide whether or not to make it, as well as learn some new cocktail names. And there's a "strong" option that adds a bit more liquor and a bit less of the mixers.
We were worried about cleaning, but it wasn't too bad. Everything except the basin cover is dishwasher safe, though the instructions do specify using the top rack for the beverage tanks or hand-washing. The basin cover is easy to clean manually and set aside to dry. Of course, it can be challenging to manage the various liquids correctly- we were often left with a bit of one juice or sour mix. But everyone seemed pretty happy with the drinks created. There are some downsides- it's relatively inflexible, since they don't recommend changing juice options, and they recommend against using OJ with pulp unfortunately. And you can't adjust the recipes either, if you prefer your Margarita a slightly different way. The cable seems way too short- only a couple of feet long. And it's certainly not cheap- the machine will set you back about $300. But it is the perfect addition to a party, a way to get people talking about their drinks, freeing up the host who might not want to be tied to the bar, and pointing the way to some new twists on classic ingredients. We like the idea and the execution: the Margaritaville Mixed Drink Maker is fun, easy, well-built, and convenient.