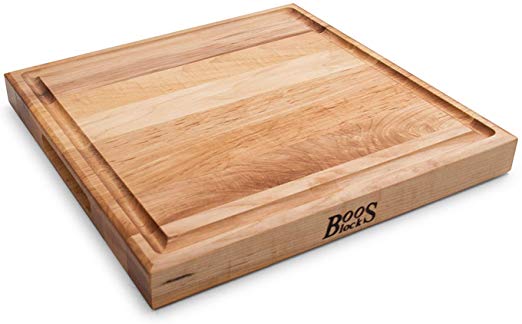 Surfaces matter. Whether it's a nice clean area for your work, smooth ice for your skating rink, or a road free of potholes, the best surface is one you barely notice. Cutting boards work much the same way- you probably don't think too much about them, until you have to- and looking carefully, it's easy to see that not all of them are made equally. Thickness counts, wood is always weighty, solid pieces can be quite pricey, and exotic woods of course add to the price.
We've been trying out a pair of John Boos Breadboards- each offers a built-in slot for holding your knives, and the only difference between them was the material- hard rock maple and black walnut. At 13 pounds, these aren't lightweight, and both are nicely finished with what they call a "Beeswax" finish that felt smooth and held up well under some regular use.
Our bread knives are nearly long enough to fill the slot, and our normal loaves of bread aren't either- at 20 inches long, you can practically hold a baguette. There isn't a crumb tray or anything, but that makes it pretty easy to clean- just wipe and go. One odd part of the design is the rear feet, which are level the front of the board that holds the knife. What looks like an inch thick board, though, isn't nearly that thick for most of the surface. And the feet themselves are stainless steel and pretty well attached, but did look a little... industrial.
We've tried out cheese slates and knife sets that come with their own cutting boards, as well as a wonderful cutting board that is quite a bit more eye catching. And plenty of knives, of course, from super-sharp Fissler blades to Wusthof chef's knives and lovely multi-colored ones from New West. These bread boards from John Boos are well-made in the USA, and the company does offer a wide line of products to fit just about every wooden board need you could imagine in the kitchen.
We liked the surface and texture of the black maple more, but the wood is a bit less flexible in matching many spaces... and it runs quite a bit higher in cost. The hard rock maple board is available for $120, while the black maple is about $60 more expensive. Purchase directly from John Boos online!