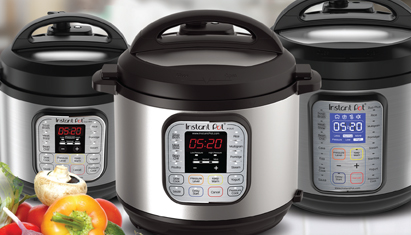 The first thing you need to know about modern pressure cookers is that they are safe. We still hear some folks worried about this issue, which has been nearly completely handled thanks to control mechanisms and seals that make it nearly impossible for unsafe conditions to occur. Another thing that you need to know: pressure cooking is incredibly quick and easy.
The InstantPot (model IP-LUX60) is part of this new generation of electric pressure cookers, which offer digital benefits (delayed cooking and programming options) as well as even more safety features. They look kind of like a large CrockPot or rice cooker, and the InstantPot offers six liters of space, enough for just about any size family or for several days's worth of meals to be prepared at once. Much like the other devices, an automatic keep-warm function serves to keep everything ready. And they call it a "six in one" device, since it combines many of the purposes of a pressure cooker, slow cooker, rice cooker, steamer, and warmer, as well as works for saute and browning. Of course, we primarily used it for pressure cooking and warming.
One of the best parts of cooking with pressure is the speed- you'll get tasty and tender results from recipes in a fraction of the time of slow cooking (think 15 minutes instead of hours). In fact, thanks to the rapid approach, you can shave energy consumption as well, by up to 70%. Use is pretty simple- the controls take a moment to learn, and programming the unit might require checking the manual, but the buttons are pretty clearly labeled. Everything is stainless steel, for better or worse- none of the health concerns associated with some nonsticks, but a bit more difficult to clean the internal pot. The black and silver styling is nice, and should fit well into most kitchens, and we liked that the unit was almost silent. Rice and beans were ready faster, with no steam escaping and collecting on the bottom of cabinetry.
For $125 or so and available online, it's a solid unit from a company that is quite well known in Asia (Midea). If you need recipes, they offer a bunch, everything from the expected chili and stew to a "Home Made Raisin Butter Rice" that is surprisingly simple and delicious. It might not change your life- but it should make your cooking more convenient.