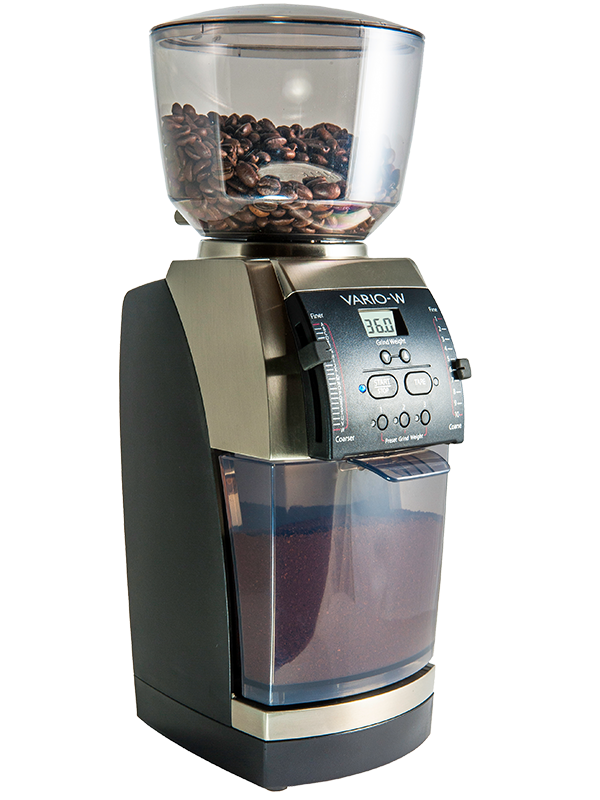 We enjoy making great coffee at home. Not everyone does- plenty of folks are fine with their freeze dried, pre-ground, bitter brew. There isn't really an excuse anymore- most every corner on the planet has been touched by the rise of the coffee house and decent java is now pretty universal. This article, and the lovely piece of gear we've got on-hand today, are meant for the connoisseurs, the serious caffeine addicts, those who aren't using a drip or perk pot and instead swear by Chemex or cold brew or possibly French press. That's because we're working with the smartest, fastest, sexiest coffee grinder that we've seen- but it's also the cost of at least one of our writer's first car.
The Baratza Vario-W professional-grade grinder is the second model from the company that we've tried out. The sibling model, the Virtuoso, still gets heavy use in our kitchen. And we still love the look and feel, which is fairly similar- solid matte plastic feeder and hopper, black and metal colors. As you'd expect, this is a burr grinder (much better than a blade grinder), and they aren't just any burrs, either. These are German-made ceramic burrs, separated from the motor to avoid heating, and grind between 1.6 and 2.2 grams per second with consistent results in a broad range (230 microns to 1150 microns). There are about 230 grind settings, allowing you to dial in the precise measurements you want- this is overkill, of course, but you can't help but appreciate the sheer level of adjustability.
Now, we didn't get our calipers and measure. We did try a range of sizes, and a variety of beans as well- some roasts are dryer than others, some can even be a bit sticky, and we wanted to see how the Vario-W would handle them. With a few bags of freshly roasted coffee from companies like The Roasting Plant and Think Coffee in Manhattan (both of whom we highly recommend), we ran several pounds of coffee through. And what we found was great news for semi-pros out there who have been looking for the holy grail of burr grinders- this is commercial quality at a fair price, and can handle even fine espresso with aplomb, and the results were perfectly even and precise at every step we tried.
Cleaning still isn't easy, but it's no worse than any other grinder, and at least everything is durable. The burrs are fairly hard to remove, though we managed with some effort. The footprint is small, considering the power of the grinder- it's fairly tall, but not very wide, so works well even in a small kitchen where countertop space is at a premium. A good burr grinder is not going to be whisper-quiet, and this one will probably not surprise- it's not loud, but definitely runs at a volume that's likely to wake up someone in the next room. The LCD screen and front panel would probably confuse a first-time user, since the controls are divided into macro and micro adjustments and there are buttons for weight. Which is the other nifty things about this one that adds to the "cool factor" but also to the price- the built-in scale that is accurate to .1 grams.
The idea is sound: you simply enter a desired weight instead of turning a knob and guessing on an approximate of time to grind, which often results in wasted grounds or needing to fiddle with the timer repeatedly. In practice, it does take some getting used to, but for those looking for precision and consistency, this is definitely the grinder of your dreams. Settings are saved, so you can figure out your precise amount of grounds, at the exact desired size, and then hit a button. The Baratza Vario-W runs about $550, and is available widely online and in stores now. We wish the grounds wouldn't stick to the hopper, but we're happy to end randomly guessing at our morning brew and run some repeatable experiments.