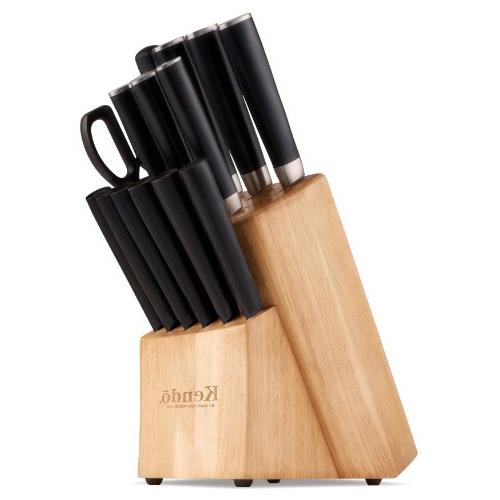 Knives can tilt towards boring- the same old patterns of black and metal, with only the occasional accent to set one set apart from the next. Cutting boards, at least, have become a bit easier to find in colors- and though they won't last like a nice wooden butcher's block, the plastic ones are easy to clean and hide away. Cutlery storage also tends to be a bit basic, magnetic knife blocks or standing ones that take up quite a bit of space and can actually dull your expensive blades.
The Hampton Forge Kendo Colors 11-piece Cutlery Center combines all of these things, adds some nice colors, and does it all for under $50. Of course, there are some compromises made to get it to that price, but it's still a great gift. You get four cutting boards, a pretty clever storage system, and six knives. All in all, it's not the set for serious chefs who can pretty easily spend several times that amount for a single knife. But that isn't the target market, and the regular light home chef looking for something attractive and space-saving could do much worse.
We'll be honest- the fact you can buy the set at Wal-Mart, and that the company does not seem to list it on their site did bode ill. And we haven't been super-impressed with with resin-coated cutlery in the past. These didn't change our minds completely- they do dull quickly, and the colors can chip a bit. These are lightweight knives for the most part, a bit off-balance, but the handles are decent, if not totally solid. You get a:
3" bird's beak knife
3.5" paring knife
4.5" utility knife
8" bread knife
7.5" slicer
8" chef knife
And all for, again, $50. Just keep your expectations in line, and make sure to use the color-coded cutting mats appropriately! Available now.