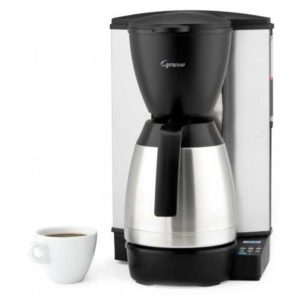 Most of you prob­a­bly al­ready have a cof­fee mak­er at home. The clas­sic drip sys­tem hasn't changed a whole lot over the years- a fil­ter of some kind, a wa­ter reser­voir and heat­ing unit, a carafe for the cof­fee once made. But if you're like us, the in­ex­pen­sive mod­els don't quite sat­is­fy. They look cheap, re­quire pa­per fil­ters or an add-on, and the carafes let your cof­fee get cold the sec­ond it's fin­ished be­ing brewed.
The Ca­pres­so MT600 Plus fix­es most of these prob­lems, and a few oth­ers be­sides. For starters, the in­su­lat­ed ther­mal pot keeps your morn­ing joe warm while you get a chance to con­sume it. It's stain­less steel, so looks good but al­so is easy to clean and stays rel­a­tive­ly fin­ger­print free. The in­clud­ed Gold­Tone fil­ter was al­so easy to clean, and worked well with our grounds.
We did miss a few fea­tures, though. There isn't any pro­grammable brew­ing abil­i­ty on this mod­el, so you can't sim­ply wake up to a fresh pot. The but­tons are fair­ly small, and the han­dle of the carafe wasn't quite as com­fort­able as we'd like. The ten-cup lim­it wasn't an is­sue for the most part, but twelve can be nice for those oc­ca­sions when you have a big group. Fi­nal­ly, the char­coal fil­ter was a mixed bless­ing- a great idea for those who don't have ex­cel­lent tap wa­ter, but it is an­oth­er thing to keep track of, and re­quires chang­ing at least ev­ery six weeks.
In the end, we found our­selves lik­ing the cof­fee from the Ca­pres­so quite a bit, and the us­er ex­pe­ri­ence was good, if un­ex­cep­tion­al. An ear­li­er brew­er from the com­pa­ny, the Cof­feeTEAM GS was a bit more so­phis­ti­cat­ed in some ways, and we did like their grinder. The price for the MT600 is fair­ly com­pet­i­tive at $125, and that does in­clude the reusable fil­ter. Avail­able now, on­line and in stores.