There are few places in your life that can have quite as much impact as your kitchen. A well stocked, nicely setup kitchen is key- and today we've got two suggestions that will help transform the space, use it more efficiently, and keep it cleaner. And don't miss our next item from the same company, simplehuman, as we look at one of their coolest products, a sleek and sexy sensor mirror. But first, the humble dishrack doesn't get a whole lot of love normally. Let's change that.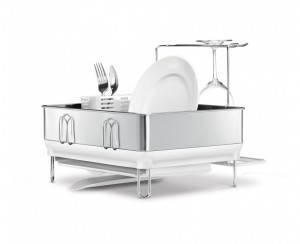 Drying your dishes is never fun, and finding a place to put them safely is probably less so. The simplehuman Compact Steel Frame Dishrack won't radically improve your life, but it will make doing the dishes a little easier. A few simple tweaks elevate this one above most others, combining space efficiency with a few design additions that make it more functional as well. Certainly, it looks nicer than any dishrack we've seen, thanks to stainless steel and some nice curves. There's just enough space to hold full-size plates, and a wine glass rack for three of your fine glassware, even large red wine goblets. Our favorite part, though, has made this an essential item- the swiveling spout on the integrated drip tray, which allows you to position the rack without having to worry about the water draining onto your countertops. The utensil holder wasn't anything special, but the unit does come in gray or white. All in all, it's a clever item that makes your kitchen simpler- and at $60, it's earned a permanent home in our lives.
Even trash cans can use a bit of attention from designers. After all, they are often smelly, fumbly, awkward, and get dirty quickly. This one might not yet be the magical solution we're hoping for- an automated system that disintegrates and recycles our garbage is probably still a ways off. But the simplehuman 38L Rectangular Step Can hits all of the right notes. We long suspected that simplehuman used a "razor blade" method- the bins themselves might seem nice, but the bags are where they would lock you in, charging a bit extra. However, recent comparisons indicated little difference in pricing compared to other quality bags, and we've never had an issue with one of theirs- they are strong, sturdy, and tie up well, better in fact than just about any competitor.
The can itself utilizes the best parts of simplehuman's lines- their "no fingerprint" stainless steel, easy to clean and smudge proof. This one feels very sturdy- we've stepped hard and often on the pedal to no ill effects. And it has a cute little button that can keep it open if you need a bit of help. The rubber base stops it from sliding around, and there is one innovation that sound a bit silly perhaps but has proven crucial here. Most trash cans thump loudly when they close, but this one is being used regularly in an environment where that can be really distracting. The silent close lid shuts smoothly and without attention, and shuts tightly as well, preventing odors from escaping around open edges. Bags fit nicely- use size J- and the gap between the bucket and the inner chamber is not on top, meaning that drips won't find their way down into the bottom. Again, it seems like pretty basic stuff, but it all adds up to a far better experience than any trash can you'll find elsewhere. Granted, you'll pay a bit more- but can count on this one to last ten years (at least, it's warrantied for that). Available now, online and in stores, for around $100.