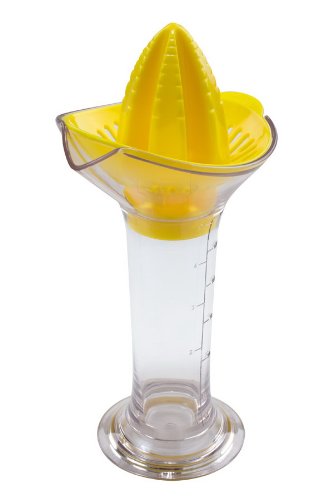 Saturday mornings were always my favorite growing up. Not for the normal reasons, like being off from school or cartoons, but because it meant I would wake up to the smells of an extravagant breakfast wafting up into my bedroom. Even I cannot sleep through that. The first thing I would be greeted with, and probably why I have trouble in the morning now without it, was freshly squeezed orange juice. My brother and I would each get our own orange. It was not a lot, but it meant the day had begun.
I mostly buy carton orange juice now, but I often miss the pleasure of a fresh squeezed orange, which was the first thing I enjoyed when I got my hands on the NewMetro Design JuiceLab. This juicer is super handy: small, easy to squeeze citrus, dishwasher safe, and has a measuring feature directly below the juicer (which hold up to 5 ounces and makes it perfect for measuring out amounts while cooking). It's also really good about keeping pulp out of the juice, has a drip free measuring spout, has a grip on the base to help prevent tipping, and even has a storage cap for the top if you wish to save the juice for a later time. The measuring feature conveniently has cups, ounces, and milliliters labeled, making it very versatile. And liked that it's American made from 100% recycled BPA-free plastic.
As you might expect, the JuiceLab is a little more expensive than some basic juicers at $18, but keep in mind all the smart details it comes with, and the fact that you can get it in orange, white, or yellow.