We've found a new morning routine. Some of the staff like espresso, and others like coffee- and being aficionados, we like to use our own grounds from local roasters. We take the beans and grind them up with the best grinder we've yet seen, one reviewed earlier this year from Baratza. But the next step is critical- we've spent a lot of time exploring different options, and there are plenty of ways to brew a pot or make a cup of espresso. For convenient small quantities of coffee, single-cup solutions are great, but they don't make good espresso and they're awkward if you need more than one cup.
But with counter space at a premium, we'd suggest finding a solution that handles all of your needs. The Krups XP2280 Programmable Precise Tamp Combination Machine is precisely that answer- it makes not only a great pot of coffee but also incredibly solid espresso, and also looks great no matter what your choice of java. The built-in "Precise Tamp" system means you don't need to worry about tamping your espresso, a major plus, and it did it's job nicely in our tests. You'll need to look carefully and figure out the "double" versus "single" settings on the tamper, but it's straightforward. There are a couple of downsides, largely in terms of noise and inconsistent milk steaming, but if you've been looking for an all-in-one machine Krups offers one of the best options.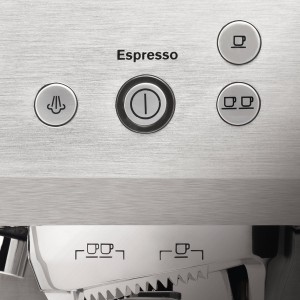 Unlike the recent Jura machine we tested and liked, this one doesn't have a built-in grinder, nor is it nearly as automatic. But the XP2280 fits into tighter spaces, we found the coffee results and milk steaming superior, and it's an all-around better value. In fact, it sort of combines what we loved about the Krups XP5240 we reviewed a few years back with a wider base for the traditional coffee maker and the 10-cup carafe. 
And like other Krups kitchen appliances that we've seen, the sleek metal and black accents fit well with most any kitchen. For those coming from cheaper drip machines, you'll notice an immediate improvement in your brew, partially thanks to the showerhead system that ensures saturation of the grounds.
A few technical details: you'll need to use paper filters, since we couldn't find a reuseable filter. And the machine pushes out at 15 bars of pressure, more than enough for quality results but not quite comparable to a pricey $1000+ machine. You'll notice a bit less crema, and we found a little additional bitterness versus espresso shots straight from the coffee shop. But few could tell the difference, and we rate the espresso results as highly as any machine in this price range. The steam wand, as well, is better than we expected from a combination setup, offering plenty of room for your mug. And the unit heats up fairly quickly to boot, an issue we've found with some previous options.
Some relatively minor niggles: cleaning is always a bit of a problem with steam wands, and this one was no exception. After a few uses, we did have an occasional issue with clogging that led to some uneven results. This isn't unexpected though. The only other thing we noticed was with noise, as this was a fairly loud system in our tests, even while brewing coffee.
But if you're a dual-need household or small office, with folks who need both espresso or cappucinos and drip coffee, there is a way to satisfy everyone. It's sleek and easy to use (and even program, we barely needed to consult the manual). Step away from the plastic machines, and put down the tamper- you'll never need to hassle with that again. With the holidays here, you can impress the family with your coffee prowess. Available now, online and in stores, for under $350.