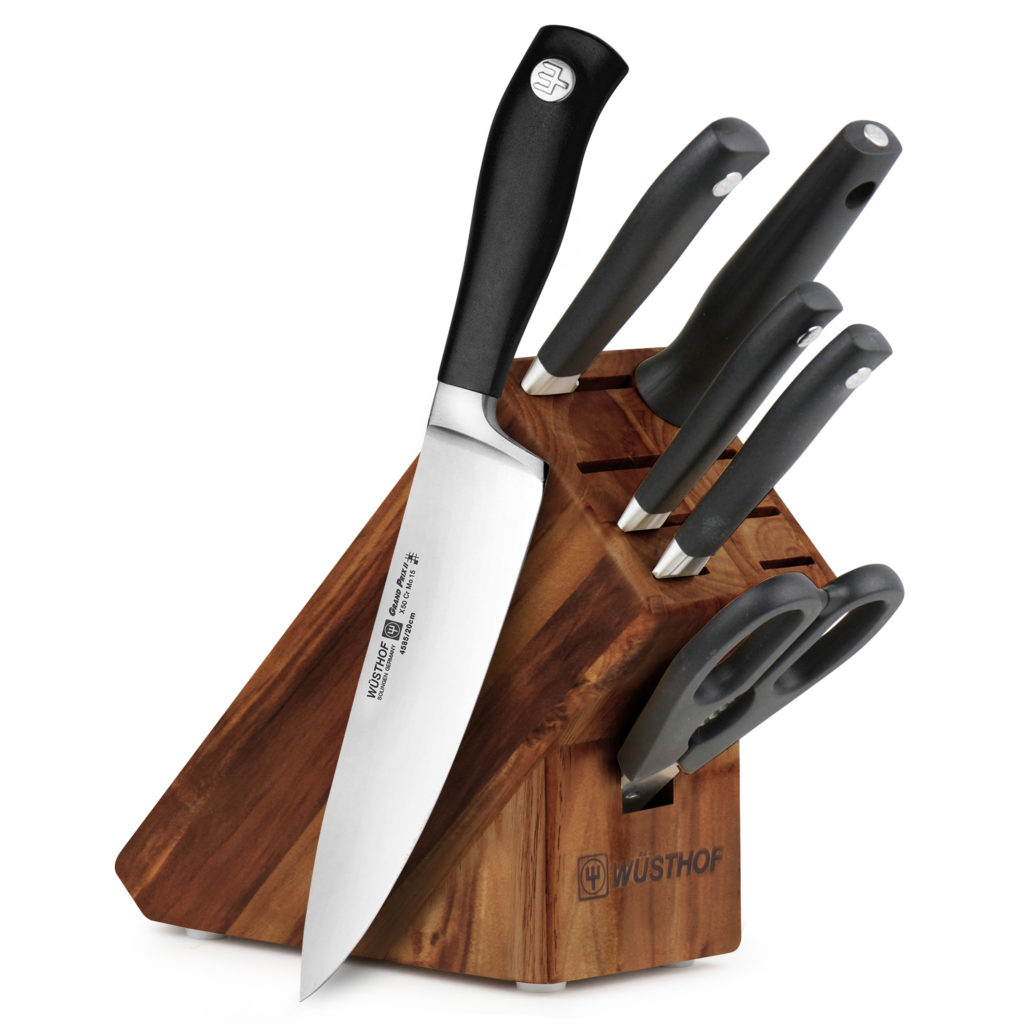 We have two products today that shake up the norms in their respective categories. You think of steak knives as having one particularly salient feature: serration. Today's eliminate them, but still work like a charm. Similarly, when you think of a copper skillet, you imagine a fast-heating, attractive but easily damaged and expensive pan- instead, this one is primarily stainless, extremely durable, and remarkably affordable.
We've seen a lot of knives pass through these pages, but surprisingly few steak knives. Part of that stems from the fact that so many of them seem pretty standard, and also the fact that they always come in sets. But the Wüsthof Grand Prix II Steak Knife Set shakes things up a bit- they are available in sets of four or six, and even have a few color options. Ours were a pleasant, attractive red though they appear on their site and elsewhere primarily in black. And you don't need to worry about sharpness- these are incredibly sharp, with a finely tapered point that comes to a spearing tip. We didn't know quite what to expect when we sat down to some 1.5-inch think medium well steaks, but these knives made short work of the task. They aren't as distinctive as their Wave line, but are easier to maintain.
We've seen plenty of Wüsthof cutlery before and always come away impressed. The Grand Prix II line offers many blade options- paring, cook's, peeling, trimming, boning, santoku, even a cleaver, in several sizes. The handles are synthetic, for durability, but feel a little lightweight to us. Balance is excellent though, and they feel comfortably ergonomic. As we've said in previous reviews, any decent new knife is sharp, but we try them out for a few weeks and see how the edge fares over time. We also try to use them outside of their intended purpose, simply to see if they test well against things like tomatoes or bread- the steak knives served perfectly for meats and even some work that would normally be reserved for a smaller chef's blade like trimming some vegetables in a pinch. We threw them in the dishwasher, and they held up well, but you have to be very careful pulling them out and putting them away- they'll trim your fingers as easily as meat. Our carnivores loved these- your family will too. Lifetime warranty, available online and in stores for around $150. Amazon has a nice video as well, showing how Wüsthof produces their blades.
Before you can eat though, you need to cook. We actually pan-fried some steaks in our latest kitchen addition, with the Anolon Nouvelle Copper Stainless Steel 12-inch skillet. Suitable for use on all stovetops, we primarily used our gas burners. One writer also threw it in the oven after frying up some mixed veggies to keep them warm- the pan is over safe to 500 degrees. And it's extremely inexpensive for a hefty pan- certainly lighter than cast iron, we found it to be a decent balance. Copper in the base means even, fast cooking, the added aluminum is lightweight, and stainless steel makes the whole thing sturdy (and magnetized for use with induction cookplates and systems). The lid is OK- it fits nicely, but the handle isn't great. And we miss the flush rivets that we've seen on other Anolon series.
But the surface was effective- we could even use metal utensils safely. Omelets were a snap, though performance wasn't as good as other non-stick pans that we've tried. And we liked that it was dishwasher safe. A few runs through the wringer of large breakfasts and brunches typically put a mark on pans, but this one was left looking new. The only real issue we had with construction was the joint between the flat bottom and sloped side- it was a bit less smooth than many other pans and thus more likely to get something stuck there during cooking. But the price is great- $80! And it's a great, balanced pan with plenty to recommend to all but the most serious folks. A lifetime warranty soothes anyone worried about longevity, and we can't wait to see the rest of the line. We've used their bakeware as well, and even managed to drop a cookie sheet from a balcony- it survived the several story fall unscathed.