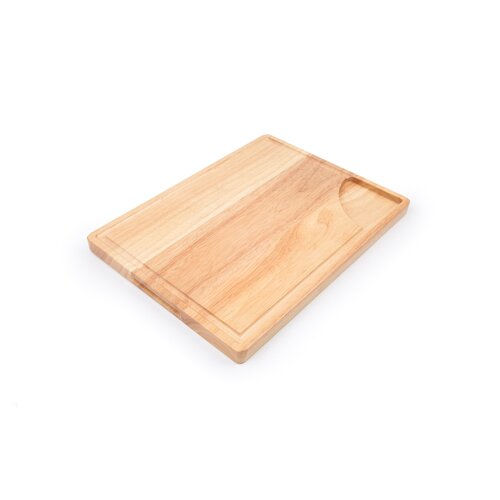 One essential ingredients for most every meal doesn't make it onto the table at all. Beyond the usual tools of the kitchen trade- good knives, great pots and pans and cookware, other key utensils- there is another whose importance is often overlooked. Actually, it is often left out for everyone to see, and tends to be incredibly visible in most kitchens. The humble cutting board hasn't changed much in hundreds of years- butcher blocks still hold sway in many places- but the advances that have come (colorful plastics, thinner, flexible boards) don't make for nearly an attractive of cutting surface.
That's where the Fox Run Carolina Chopping Board comes in. This is a heritage-quality wooding cutting board, two inches thick and a perfect foot and a half on each side, offering plenty of space for you to rip apart even the largest chops or fillet and bone your steaks, slice and dice your vegetables, and set things aside during preparation.
There are nice details too, beyond the craftsmanship clear in the lovely Acacia wood surface. We don't do a lot of heavy cleaving, but they claim that end grain construction allows it to hold up and stay durable despite such hefty use. Neoprene coated feet mean that it won't slip and slide around on your countertop or table, and it's weighty enough to stay put even if you are nudging it with your elbow. But our feet were a little off- the cutting board wasn't quite stable on a perfectly flat surface, and would shift a bit as two of the feet were a bit taller than the other two.
A built-in stainless steel grommet allows hanging, and the indentation helps prevent juices or water from spilling over the edge. At $115, it would make a great gift for any chef, a perfect complement to a good knife (or for anyone who already has some knives but is still using cheap cutting boards). We wish ours would have been level, but it's barely noticeable, and we still get questions and compliments from everyone who sees or uses the Fox Run Carolina. They have a wide line of others if this one is too large! And remember: always oil your boards!