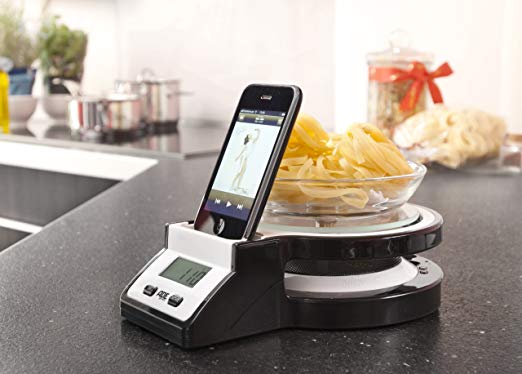 This is one of those products where you can say one of three things. Responses range from: "Hunh, whose idea was this?" to: "Yet another iPad/iPhone + "whatever" device mashup?" and finally: "Just because you can, doesn't mean you should."
The ADE JOY Kitchen Scale with iPod/iPhone dock is a device that, as you might suspect, is a kitchen scale combined a with an iPod/iPhone dock. They claim it is the world's first- and we aren't surprised. First we'll start with the scale itself.
The scale is powered by aCR 2043 lithium battery, which is provided. The scale comes with multiple functions, one of which is the ability to weigh dry or liquid ingredients in increments of 1gram/0.4 ounces. The add and weigh (tare) function allows you to weigh all ingredients in the same container. Another feature is its ability to provide weights in pounds, fluid ounces or grams. The scale also comes with battery and overload indicators that allow you to know how the system is functioning and an automatic shutoff to help preserve battery life.
Overall the scale actually is actually quite good and does what you expect a scale to do, even though its maximum weighing limit is 11 pounds. We didn't come close to hitting the maximum, considering the fairly small size of the unit. Now, onto the iPod dock.
The dock is positioned right in the front of the scale, which means that when you want to place something on the scale you will have to avoid your iPod, which can quickly become an annoyance. Especially when you forget that your iPod is in the dock, and you're using sticky, wet, or messy ingredients. A thought that crossed our minds during the review was "why would we put our iPod/iPhone right where foods and liquids are going to be?"
The dock is compatible with all current iPod and iPhone models and comes with a protective cover for when there's nothing in the dock. There is also an AC outlet which allows you to charge your iPod/iPhone- pretty nifty. The speakers are located in the base of the device. On testing them we found them to be tinny and lacking in bass (although that might be a plus when we're weighing ingredients)- a common problem with smaller iPod/iPhone dock speakers.
Our overall judgment is that the ADE Joy Scale is just not quite not worth it and you'd be better served having a dedicated scale and a separate music system in your kitchen. Handily enough, ADE and Frieling make them! Available for under $100, this is an odd combination that just doesn't quite work.