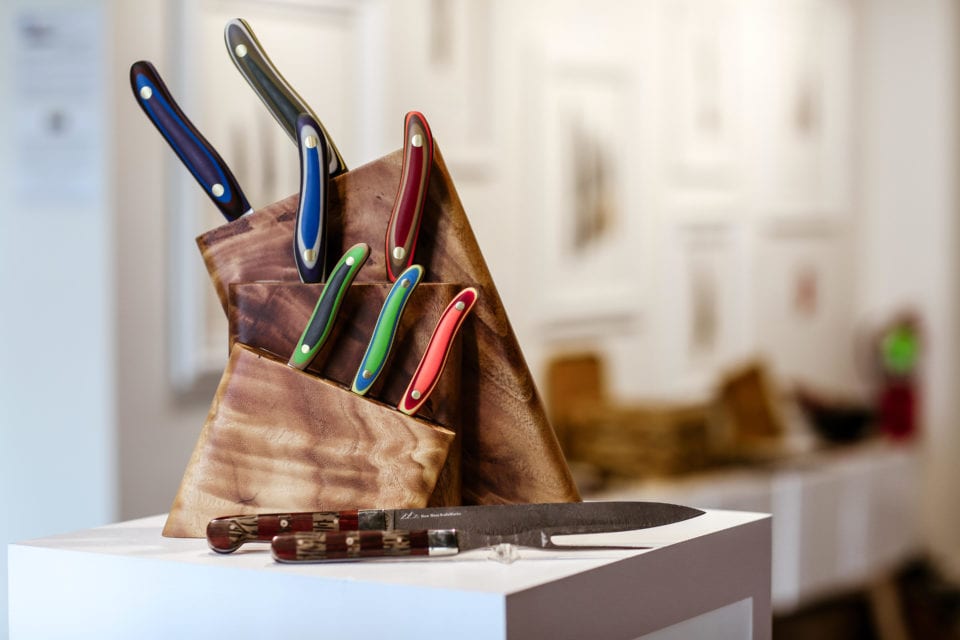 There are some things that work so well together that it's impossible not to think of one without the other. That's how I've started to feel about my knives and cutting boards. Over the years I've been very fortunate to acquire several amazing knives, many of which continue to hold high esteem in my kitchen. My search for cutting boards has taken a bit longer, as I often go back and forth between my love of natural materials, and my love for recycled materials. It's possible that I've hit the best combination of all, thanks to New West Knife Works, and Epicurean, via King Arthur Flours.
All of these companies are making long strides towards greener production facilities, as well as putting focus on their own communities. In a world where there is social and political unrest all around, it's encouraging to see companies focusing on local community welfare and sustainable business practices.
I've shared two knives from New West Knife works in the past, both the Phoenix 9 Chef's Knife, and the Super Bread Knife. Both are works of art, and both are long-lasting, razor sharp knives. I can confidently make that claim with several years of use under my belt now. I'm excited to share the Chopper Chef. The previous two knives I've reviewed are both full size chef's knives, whereas today's knife is an extremely versatile medium sized knife, perfect for chopping vegetables. The blade is a bit beefier than a 9" chef's knife, as well as shorter at 5.5", with more to grip near the handle. This makes it ideal for vegetables of all sizes and densities. I can go from potatoes to strawberries to onions with ease.
Like the previous Fusionwood knife from New West, the Chopper Chef has a beautiful handle, and is now made entirely in the United States. (A quick word regarding the Phoenix line of knives- New West will be discontinuing the Damascus steel that is manufactured in Japan, and will be releasing a new line of knives to replace them later this year. If you're interested in one of the Phoenix knives be sure to order one soon, as there will be no new stock.) Care for these knives is the same, hand-wash, and dry immediately, preferably re-sheathing in the leather sheath that they come with to protect both the blade and your fingers. New West is giving one of these knives to a Truly Kitchen reader, so if you'd like your shot at one, head over to their site to sign up for your chance to get a Chopper Chef for free! If you aren't the lucky recipient of a new knife you can still own one for $99, available directly through New West Knife Works.
Knives are fun, but dangerous if you don't have proper surface to use them on. That's where King Arthur Flours and Epicurean come in. I tested out the 11×14" recycled cutting board, and I think I'm in love. This board combines my love for recycled products with my love of natural products. Made entirely out of recycled paper and cardboard. I was worried that it might feel flimsy, or do strange things when wet, but this board performs like a champ. It's nice and slim, reasonably lightweight, and has a very nice aesthetic to it. It's heat resistant to 350F, so it can be used as a trivet without burning, as well as dishwasher safe, making it extremely easy to clean.
Because the board is made from natural fibers it's important that it doesn't stay wet indefinitely, or there is the possibility that it could warp. It's largely stain resistant, though again, there are a few things like papaya and beets that could stain the board, due to enzymes in the food. The surface of this cutting board scores slightly, so it will not dull your knives, which is probably my favorite thing overall. It's no surprise to me that a company like King Arthur Flour would seek out products like the Epicurean boards, as both companies have a commitment to the betterment of their communities, along with socially conscious business practices. The 11×14" board is available from King Arthur Flour for around $27, and comes in three different sizes, starting at $13 for the smallest board.