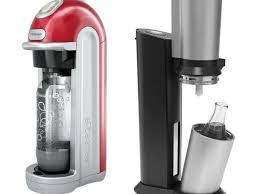 If you're tired of spending a small fortune on pre-packaged sugar water, there are some better, healthier, less expensive, and fresher options available now. Home carbonation isn't some weird, difficult technology meant for those exploring molecular gastronomy. You don't need anything other than either of the packages today to enjoy sparkling water, and you're welcome to call it 'bespoke', 'artisinal', 'hand-made' or any other hip adjective that helps you enjoy the bubbles.
We've seen SodaStream before- they are the biggest name in home carbonation, and we checked out some of their latest formulations along with one of their machines just a few months ago, to our distinct pleasure. But time moves fast in the beverage industry, and we have two new machines today, each of which offers something slightly different. We'll start with the less expensive of the two, the SodaStream Fizz. Ours was the red model, but a few others are available- blue, black, white, and green. The Fizz is cute, fairly small, and clearly meant to be playful. It does boast a great feature though that most other models don't- the 'Fizz Chip', which allows you not only to see the level of the carbonation cartridge, but also in theory to change the carbonation strength. The meter works reasonably well, and this is definitely the model for younger folks- the build quality is OK, but not great, and the price is reasonable at $150 or so.
The basics of the system have not changed. You'll still need to use custom cartridges, which are refillable, and last around 60-110 liters. If you don't live near a convenient spot to return and swap out the carbonating cartridges once used (Bed, Bath, and Beyond for instance), then the system is likely to not be cost-effective for you. Also, you can enjoy water immediately after carbonation, a process that takes only seconds and is super-simple, or you can add a variety of syrups that they offer in order to make sodas of nearly any flavor. The Fizz uses the basic plastic containers, which are reusable and easy to put into the refrigerator for chilling before or after carbonation. They're also easy to clean. For those curious about the syrups, some of our favorites are from the Sparkling Naturals line, which dispense with the aspartame and artificial sweeteners used in prior formulations, and instead use natural cane sugar. The Root Beer is excellent, and there are many others as well, with a product line of about 50 varieties. You'll get around 33 cans out of a bottle of syrup, which can save you money over time, especially here in New York where a can of Coke can cost $2.
The Sodastream Crystal is their higher-end version. We loved the glass carafes- they look and feel great and the machine itself is much sleeker, with classy black and silver looks. The Crystal also feels more solid, and is much better suited for adults and gifting (wedding attendees in need of an interesting gift, consider this). And the carafes also seal better than the plastic ones, in our experience, meaning you can grab them the next day and still have soda that isn't flat. The textured bottles are easy to hold, and are available separately for under $20 if you want extras. This one is also available in a couple of colors, though not as widely.
Between the flavor essences (fruit flavors with no sweeteners at all), and the tonic, energy drink, caffiene free, diet varieties, and even teas there is something for everyone. And whether you choose the more solid, modern Crystal with a slightly higher price point of $200, or the cute Fizz, you won't likely be disappointed in your ability to add instant sparkle (to your water, if not your day). Available online and at many retailers.