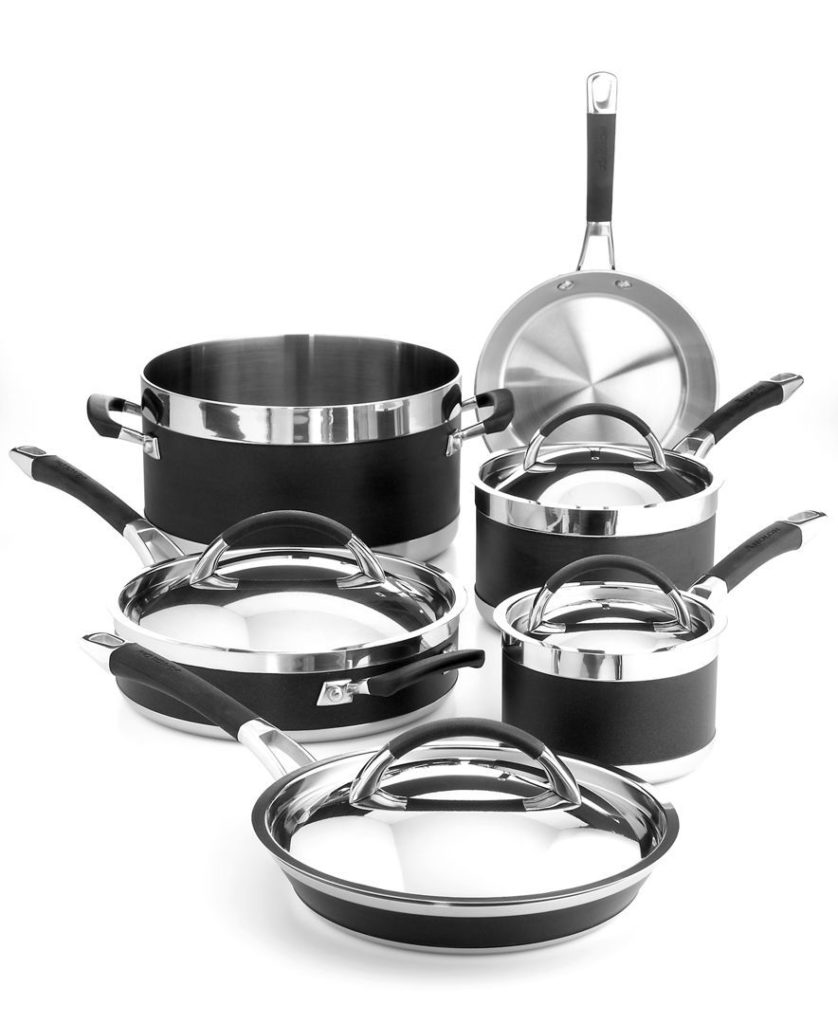 Say good­bye to cheap pots and pans. Up­grad­ing your cook­ware is as es­sen­tial as up­grad­ing your cut­lery- it makes an im­me­di­ate and dis­tinct im­prove­ment in your cook­ing tech­niques and re­sults. Your food will be bet­ter- more even­ly cooked, un­burnt, and not dam­aged when you try to re­move your eggs or pan­cakes from the pan.
I think we all se­cret­ly dream of high-end kitchen sup­plies, which why I was sali­vat­ing to get my hands on the Anolon Ul­tra Clad Three Quart Cov­ered Sauci­er and the Anolon Non­Stick 10″ Open Skil­let. Anolon is a fa­vorite among pro­fes­sion­al chefs with their gourmet kitchen­ware. And as a side note, they are work­ing with UPS to re­duce their car­bon foot­print. So, they get points for be­ing green friend­ly.
Both pans are smart­ly made from three lay­ers of met­al. Two lay­ers of stain­less steel and a mid­dle lay­er of heat con­duct­ing alu­minum, which ex­tends up the side of the pans to en­sure the best heat dis­tri­bu­tion. They have a no­tice­ably sleek look, where the out­side of the pans are cov­ered by a black non­stick strip, and the com­fort­able black sil­i­cone rub­ber han­dles match­es nice­ly. In ad­di­tion to the out­side strip of the skil­let, the in­te­ri­or is al­so coat­ed in a non­stick lay­er. The pans are oven safe and can han­dle tem­per­a­tures up to 400°F/204°C. I found both pans did a great job when it came to the ac­tu­al cook­ing and were very easy to wash, es­pe­cial­ly since they are dish­wash­er safe. Just be care­ful with the non­stick parts, as they can scratch if you're rough with them.
We liked the lids more than most sim­i­lar cook­ware- nice han­dles and good sol­id fit were key fea­tures. And thanks to their unique con­struc­tion, this line is suit­able for all cook­top sur­faces and meth­ods- we tried both gas and in­duc­tion. The sauci­er, es­pe­cial­ly, is a pret­ty unique size and shape, and per­fect for mak­ing sauces and then throw­ing in pas­ta and your meat to sim­mer and mix.
As far as gourmet pans go Anolon's prices are fair­ly av­er­age, with the sauci­er at $70 and the skil­let at $71. If you want to up­grade your cook­ware, Anolon gets our vote.