Over the weekend, we looked at a few great items for Father's Day. Among them were a great wine and tequila, each of which is better chilled. And we're happy to provide the other side of that coin- a great way to chill each beverage. If your gift didn't go over so well- or if your that Dad that is looking for a gift to yourself- then consider this pair of items for your kitchen, from Brookstone.
The Brookstone Iceless Wine Chiller is an quick and easy way to get your bottle of wine cooled to the appropriate temperature. If you forgot to put your wine in the fridge- or if the fridge is full, or you just want to get the temperature to a more precise point- then this is the gadget for you. You can set it on the tabletop to keep the bottle chilled as well, and can forget about ice buckets. Granted, you'll need a power outlet nearby, and need to keep the Wine Chiller plugged in, but we found it useful and a fun conversation piece. It takes up less space than a refrigerator, and uses less electricity as well.
As they say: "simply select your wine from the database of 40 wines and our chiller automatically brings your bottle to the recommended temperature to bring out the best possible palette, bouquet, and wine-drinking experience". We tried both reds and whites, as well as bubbly sparkling wines, and found it worked well across all three types though might not fit all bottles. It works fairly quickly from cooler temperatures though takes awhile if you're coming from a warmer 80-degree point, and does make a fair bit of noise. It's also not the most attractive unit. But it gets the job done easily, with no mess or fuss, and we liked the timer that lets you know how long until your bottle is ready. Available now, for around $80, online and in stores.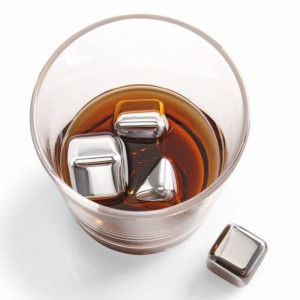 If it's whiskey, vodka, or any other spirit that you're trying to chill, then the Brookstone Stainless Steel Drink Chillers are for you. We've tried out plenty of styles of whiskey rocks- the stone kind- but this is one of the few stainless steel versions that we've seen. They add a nice, modern touch to any bar, and the set of six cubes are easier to clean as well. Plus, they work better and faster, offering some serious chilling power. With rocks, we would often use two in a glass, but these only needed one and had our drink chilled from room temperature within a minute. They won't dilute your drink, like ice, and take about three to four hours to get fully cold before and between uses. At a cost of only $25, these are an easy recommendation, and something that every spirits drinker can appreciate.